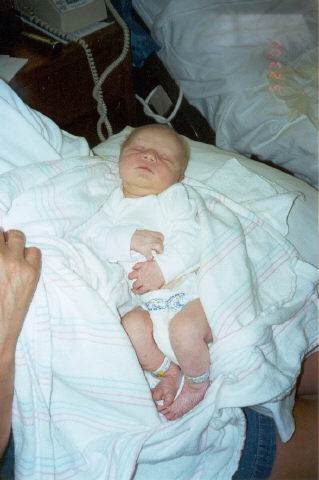 Our son, Derek Michael Pederson, was born on May 22, 2000. He weighed 6 lbs. and 15 ozs. He was 20 1/2 inches long. He had such a conehead--the nurses said that he would probably lose an inch in height after his head went down! He looked perfectly healthy. The only problem was that he didn't take the bottle very well. The nurses weren't too concerned with this and said that this was a normal problem with newborns. The rest of the day was filled with lots of excitement. We had lots of visitors and phone calls. The next day

my husband went to work and I got to bond with our son. The nurse came and took Derek back to the nursery during general visiting hours and said she would bring him back afterwards to eat. He never came back. When my husband got there, they said we could go see him in the nursery. They said he was in a warmer because he looked a little pale and his sats. were low. The neonatologist said he was running some tests to see if he had an infection or a heart problem. Within an hour, the ambulance was on its way to take Derek to Children's Hospital of Wisconsin-Milwaukee. We drove to the hospital and arrived there at 11 p.m. They were getting him settled in and said that we could see him soon. Immediately they did an echo and they diagnosed him with HLHS-Hypoplastic Left Heart Syndrome. The cardiologist came in to explain the diagnosis and to give us our options: 1) the set of 3 surgeries or 2) compassionate care. They don't do the heart transplants for HLHS at this hospital. We were so overwhelmed and were full of questions and tears. They showed us to a room for the night and said they would explain everything again in the morning. We didn't really sleep much that night or the week to follow. They said that they have found that HLHS kids do better if they are a little older before doing the Norwood surgery, so we set the surgery for May 30th. Derek would be 8 days old then. We spent every day at the hospital holding him and reading and singing to him. It didn't matter that he was hooked up to all of these wires and tubes, we just wanted to be with him. On Friday May 26th, we had him baptized by the hospital chaplain. They were so cooperative and we got to have our closest family and friends there to share with us.
Finally, Tuesday was here. We got to the hospital very early to hold him before the surgery. We just sat there and cried. We didn't want to let him go, but it was time. We said goodbye and we loved him and that we would see him later. It was the longest day of our lives. Eight hours of waiting--I don't think I moved from my seat all day--I was numb. They kept us updated every 2 hours. It was always good news.

In Memory of Derek Michael Pederson
May 22, 2000 to September 13, 2000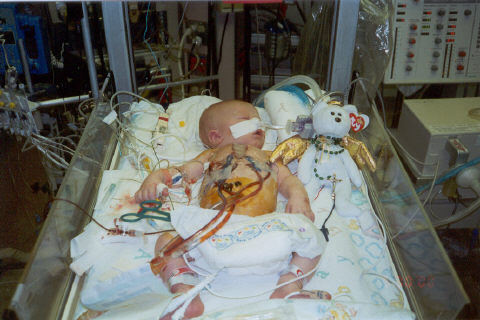 He came through the surgery great. But the next 48 hours in the PICU would be critical. Derek was making good strides and they closed his chest two days later. On Sunday, June 4th, our 6th wedding anniversary, we came in to find that he was off of the ventilator. What a great present! Two days later we got to go back to the NICU and start working on eating. He started to breastfeed great! About 10 days later, he wanted nothing to do with breast


feeding anymore. He would take some from the bottle, so we put the rest down his Ng tube. He was having a terrible time eating and they "threatened" putting a g-tube in. Over the next few days it got worse and

he even started dropping his oxygen sats. when he ate. It was decided that we would do an Upper GI test. The test diagnosed severe reflux! The barium practically flew across the room. They started him on zantac and a drug to empty his stomach faster. We tried the medicines for a week, but he just kept getting worse. He had to


be on oxygen full time now, so they decided to do the Nissen surgery to fix the reflux and put in a g-tube at the same time. This would mean more time in the hospital. We really didn't want him having another surgery but it was the only way we'd finally be able to take him home. So, on his one month birthday, it was back to surgery. This was not as stressful as the day of the heart surgery, but it was still nerve wracking. After the surgery, he was more swollen than after the Norwood. It would take another couple of days before we could try and start feeding him again. Our nurse was very good at getting things moving and on July 4th we were finally able to come home! We were excited,

nervous and scared. We'd had the worlds best and most expensive babysitters up to this point! Now, it was up to us. We were really glad to be home and we were enjoying being a family. Derek's check-ups were good and all the doctors were pleased with his growth, blood pressure, sats. and progress. We had lots of visitors and went to see both sets of grandparents frequently. We had an echo done in August and they told us that they would do the Glenn at the end of October or beginning of November. Everything, from a cardiac standpoint,


was good at this point except his sats. were a little lower than they liked, but they weren't real worried.
Since mid-July, Derek was having gagging spells after he ate. It happened if we fed him by mouth or through the g-tube. He went from drinking his entire bottle to drinking nothing at all. None of our doctors could explain this. We tried everything to fix it--changing formula, medications, feeding tubes. Nothing was curing it. We finally did another Upper GI in September, but it was negative. This was one mystery that we never solved.
His grandparents wanted to throw him a party so all of our friends could meet him and celebrate with us. It was a great day! He got to meet so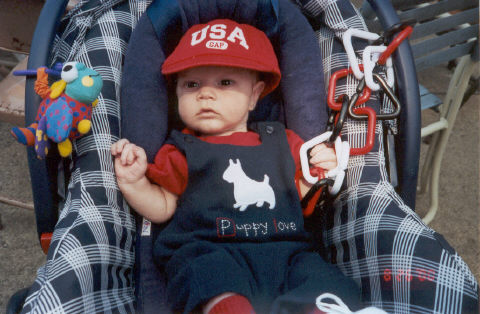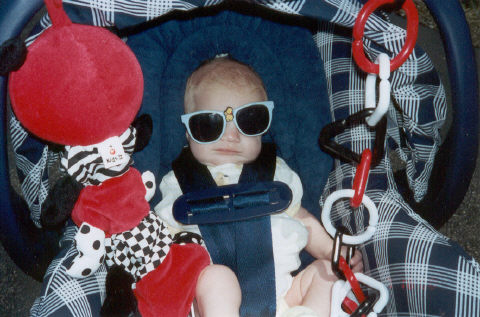 many people and he was able to share his love with all of them. Derek was a very happy baby with big brown eyes and he just melted our hearts when he smiled at us!
We were scheduled for our cardiologist check-up on September 6th, Derek just didn't seem as happy as normal, and the appointment showed that his sats. were lower than before. Our cardiologist wasn't happy with these and we set up an appointment for a cardiac catheterization on Monday, September 11th. His sats were still low, so they started him on some oxygen that morning. This really made him mad. The cath showed a narrowing at one end of his shunt.

They decided that this is what was lowering his sats. so they set the Glenn for September 22nd. He was kind of cranky after the cath and even madder because he came home on oxygen. Monday night and Tuesday he really didn't sleep good and he just wasn't himself. He woke up early Wednesday morning and was very cranky. He seemed hungry and even drank some of his bottle. He just would not calm down either for my husband or myself. My husband went to work and my mother-in-law came to stay with us. At this point I had already called all of his doctors because I knew we were going to see one of them today! I was getting ready and decided that we were going to take him to the hospital. As we got to the door. I told Mike's mom that he wouldn't make it there if we took him. We were calling 911 NOW! He was starting to breathe shallower as I called Mike and told him to meet us at the hospital. It felt like an hour drive even though we are only 10 minutes from the local hospital. When we got there, they didn't know we were coming! I was so mad! Since I work there, I yelled to one of the nurses I knew to please help us. Within seconds, they had everyone there working on him and they were on the phone to Childrens Hospital. They spoke with our cardiologist and within minutes the helicopter was on its way to get Derek. The cardiologist said this was probably due to the narrowing of the shunt and said they would probably take him right to surgery when he got there. We, of course, gave him permission to do so. They got him ready and we watched him fly away. What an awful feeling! We drove up after him and when we got there, they were stabilizing him for surgery in the PICU. We finally got to see him--it brought back a flood of emotions and memories. They said he was dehydrated and they had a hard time finding his veins so there was a lot of blood. They told us that we did not cause the dehydration, there was probably something in his system. Plus he had had the Upper GI on Friday and the cath on Monday, so he was down on fluids and the dye from the cath also dehydrates you. We said our goodbyes and sent him off to surgery. We were nervous and scared, but we thought everything would be alright--he was a little fighter and had made it this far already. They kept us posted about every two hours and he was doing great. He came on and off bypass with no problems and they closed his chest. When they went to remove the drape to leave the OR, they noticed that his abdomen was distended. They quickly opened his chest back up and they sent for an emergency ultrasound. It showed that his entire large intestine, except the rectum, was dead

and some parts of the small intestine didn't look good either. They said the earlier lack of oxygen and blood flow caused this. They removed the large intestine and said that if he survived the night, they would explore the small intestine again in the morning. Until then it was placed in a bag on his tummy so they could watch it. If enough of it survived, they could attach it to the rectum, but he would have been intravenously fed for the rest of his life. My husband and I decided that this was no


way for anyone, especially a baby, to live so we chose to take him off of the life support. Together, we told both sets of grandparents our decision and they all agreed. We were also able to tell Mike's sister and my brother (Derek's godparents) before he was gone. We all got to say our special goodbyes and Mike and I held him for awhile. We all prayed and sang to him and told him how much we loved him. We wanted him to know that we were all there with him. Then we kissed him good-bye and told the doctor that we were ready. They disconnected him, but his little heart would not stop beating! Finally, he was gone. He was born at 9:30 a.m. and was gone at 9:30 p.m.
The next few days were a blur--we were both numb-- but we planned out everything for him. We had a beautiful day for the funeral. The funeral director called us to come and choose the casket size that morning, (we had the visitation and the funeral all on Saturday morning at the church.) It was his way so we could see Derek all prepared by ourselves. We got to hold him and this was the best gift of all. Our arms ached for him. The ceremony was just perfect and the songs brought tears to everyones eyes. My brother gave a beautiful talk about Derek that touched everyone and a reader read a letter from Mike and I. It was so emotional. We all drove to the cemetery and had graveside services. It was beautiful.
We miss our little guy so much. It might have been easier to accept if it was his heart that took him, but it wasn't. We just know that we gave him every opportunity that we could and we loved him as much as possible.
We will never forget Derek--he was our firstborn and he will
always be a part of our lives. He was such a handsome little guy!
Thank you for reading about our little man.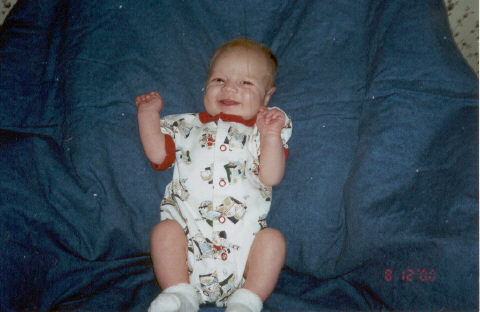 Kickin' back in my Boppy!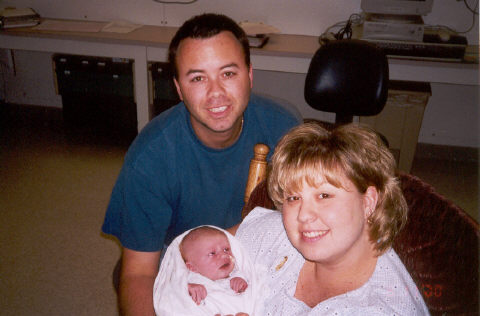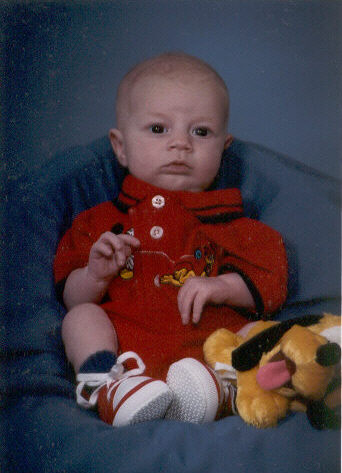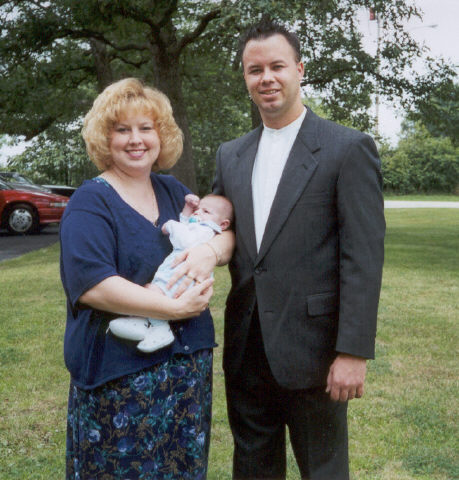 Mike and I would love to hear your comments and stories so please sign our guest book. Thank you!